Audio Note Kits L2 line preamplifier


This product has evolved since the beginning of Audio Note Kits and has had rave reviews from many customers over the years and we have added many mechanical and electrical enhancements and improvements in all areas in that time. It is simply a stunning pre-amplifier that delivers extreme musicality and tonality!
The kit starts with a high quality mains transformer and choke combination for the M2 tube regulated power supply. The thick 3 mm PCB's, stainless steel hardware, gold-plated brass knobs, an ELMA selector from Switzerland, a custom made extension kit with brass bushings, ALPS volume pot with custom made PCB for easy connection, AN-A shielded cable and gold plated RCA's take this pre-amp into a league of its own. This is all housed in a nice 3 mm aluminum powder coated black chassis.
For the12AU7 Line Board we supply AN tin caps, Takman carbon film resistors and Black Gate cathode capacitors (we still have them in stock).
A heavily upgraded version with AN or Jupiter copper foil coupling capacitors, AN Tantalum resistors and Black Gate N-series cathode resistors is also available.
Features:

• 3mm aluminum Powder coated Chassis
• CRS steel divider plate powder coated with holes and grommets
• 3mm thick PCB's through out
• Heavy Duty gold plated RCA's
• AN-A cable
• Brrass Gold Knobs
• AN Tin film caps
• ALPS volume Pot
• Takman carbon resistors (line board)
• Black Gate Electrolytics (line board)
• Extension kit with brass bushings
• PTFE hookup wire

The photos on this page are from the Signature version of the kit which includes the AN copper caps and AN tantalum resistors.


The L2 Line pre-amplifier now comes standard with a very high quality extender kit for the ELMA selector with a custom made bracket for the ultimate in short length leads and high quality switching.





Normally, a pre-amplifier's input selector switch is physically situated on the front panel. This means that all of the inputs have to be routed quite a long way. Our solution is to use an extender. This allows the switch itself to be mouted closer to the input sockets so that much smaller lengths of wire can be used to connect to it.



General Specification
| | |
| --- | --- |
| Inputs | up to 5 additional line level inputs |
| Outputs | Two sets of Main outputs |
| Controls | volume and 6-position selector switch |
| Chassis Dimensions | 15" wide, 16" back to front, 5.75" height (including feet) |
| Line Stage Gain | 23dB |
| Input Impedence | 100K |
| Output Impedence | 3K ohms |
| THD Distortion | 0.2% @ 1V output |
| Noise | 88dB |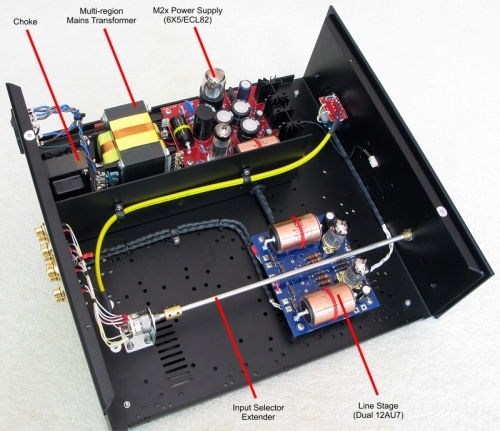 For more information see also: AudioNoteKits.com



---

What customers are saying about the L2 Pre-Amplifier Kit


Don Curry
"I had been a kit builder many years ago and had done an MK3 Dynaco with its short 12 page kit setup manual; But your manual with 88 pages of step by step instructions and photos JUST SIMPLY BLEW ME AWAY. I was so impressed about it that I ran off a copy for my own personal knowledge and so I can study it alot without being tied to the computer screen."


Erik Snip
"The kit looks wonderful! And also documentation is very detailed! (must be loads of work!) And I really must make you and AN a compliment because it all looks stunning!"


Paul Hopkins (click here for the full review)
...The preamp is sounding superb and is very quiet, no audible hum or buzz. What I noticed at first listen was the bass weight this preamp provides. The bass is very deep and tight and provides a great foundation for the music. I thought my speakers were fairly good, but now I think I'm hearing their full potential for the first time. The sound is very balanced top to bottom, images are large and nicely positioned in the sound stage and the soundstage is also wide and deep. The dynamics are perfect and there is a certain cohesiveness to the music that is hard to describe. I think maybe the top notch parts and the power supply of this preamp have plenty to say about the sound...


Paul Hopkins
Paul Hopkins comments after installing the L2 phono stage board into his existing L2 pre-amplifier...
"The L2 phono stage is installed and operating flawlessly. Still messing around with it a little and letting it break in some before evaluation, but my early thoughts are excellent ones."


Igor Bilot
Once I turned on the L2 pre-amplifier, I was amazed by a far more open sound stage, all instruments and voices were well balanced and clearly defined. Sound waves were floating in the air, adding another dimension. The sound was much more detailed and clear, almost pristine. The bass was more tight and focused and the tweeters came alive under the jazz brushes: I never heard them so clearly. Clarity, details and a warmish side characterize this product. Musically, it was fascinating to hear the music I'm used to and discover the details I missed before. I was unable to turn the power off for hours, the sound was so sweet, no harsh or metallic aspects, just flawless in every detail and very well equilibrated.
There is absolutely no hum when both volume pots of the amplifier and the pre-amplifier are turned towards maximum. The cosmetic of this product is also really pleasant, thanks to Brian for consistently improving and refining his kit products.